The Ultimate Whale Watch
Half Day Excursion: Whale Watch, Wildlife, Small Boat Tour
May 25 to July 31   -   (off season & private charters also available)
Morning Departure:   9:00 am to  about 12:30 pm 
Afternoon Departure:   1:30 pm to about 5:00 pm
(some tours may end up getting back later)
Meet up with the Captain in the harbor and climb aboard! Ample seating for six guests, heated cabin, and full marine head are standard on our boat tours. Our 'small boat' tours are a great way to see wildlife without the crowds.
Summer in Alaska is whale season and the waters around Seward are a great place to find whales as well as other wildlife. Humpbacks are a very regular sighting. We also see Killer Whales (Orca) on occasion. No two trips are ever the same as the captain will customize every trip based on wildlife activity and conditions at the time. We guarantee a whale sighting or your money back. No other company in Seward offers a whale guarantee.
$149 per person plus tax and port fee (No fuel Surcharge)

Never more than 6 guests per tour

Snacks, bottled water, soft drinks, coffee, hot tea, and hot cocoa included.
Heated cabin
On-board restroom

Whale sighting guarantee
The Ultimate Whale Watch meets on the boardwalk in the Seward Small Boat Harbor, next to the "Coho Joe's" Coffee shop. This is near the top of "B" dock, and behind the "Pro-Fish-N-Sea/Crackerjack" charter office. The Captain will walk up to greet you just prior to departure.

Our Exclusive Whale Sighting Guarantee
*Guarantee available from May 25 – July 31).
Of Course we can't control nature, but we are so sure that we will see a whale on our whale watching tours that we are willing to say that if a whale is not sighted on your adventure we will refund the price of the whale watch, or you can go again for free until sightings occur, limited to space available.  Applies to all of our motorized "whale watch" boat tours including whale watch/adventure combos from May 25 to July 31. On combination trips such as whale watch/adventure combos refund is limited to the whale watch portion of ticket price up to $149 per person, or 50% of group rate. Whale sightings are at the discretion of the captain. Federal law requires a distance of at least 100 yards be maintained when observing protected marine mammals. No attempt will be made by our captains to brake these laws. Whale sightings include but are not limited to spouts, flukes, fins, and backs of any type of whale including, but not limited to, the following: Humpbacks, Orcas, Fin Whales, Sei Whales, Grey Whales, Minke Whales, or Dall's Porpoise.
What to wear: Seward, Alaska is often referred to as a 'Temperate Rain Forest' and for good reason, although we do get several beautiful sunny and warm days each season. We suggest you dress in layers so that you can adjust for the weather of the moment. A waterproof outer layer is recommended. A light rain jacket and rain pants over a couple of inner layers is going to give you the flexibility for whatever you encounter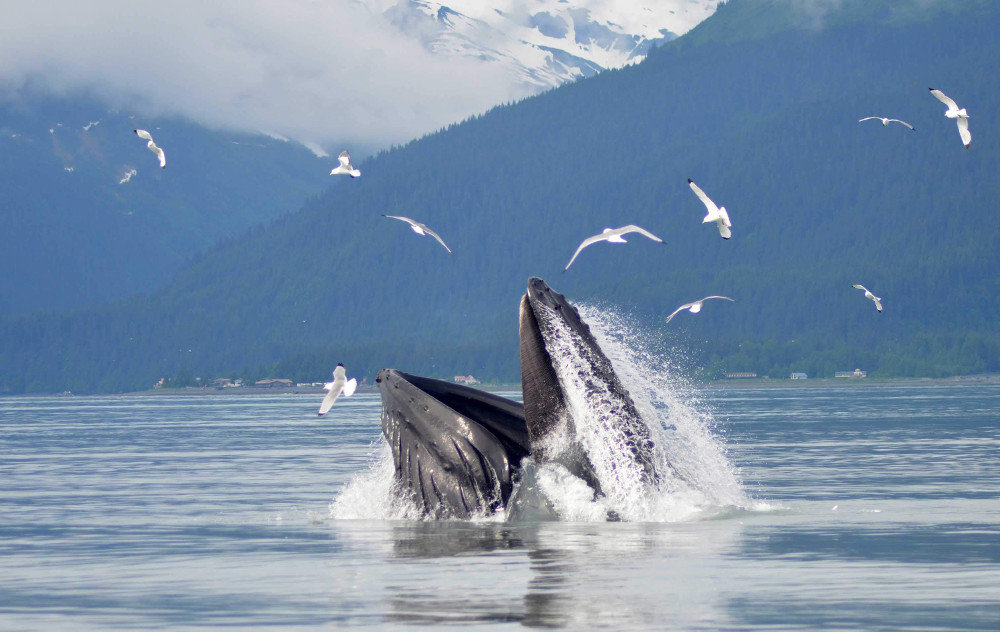 For more pictures from our tours check out our Photo Gallery
Searching Availability...
 To book by phone please call  907  422 0432