Alaska Railroad & Ultimate Whale Watch Package
May 25 to July 31
Full Day Adventure: Round trip transportation on the Alaska Railroad's Coastal Classic Train & our Signature Ultimate Whale Watch
Train Departs Anchorage:   6:45 am – arrives in Seward at 11:05 am
About 2 hours to walk the harbor shops and restuarants  
Ultimate Whale Watch:  1:30 pm –  to about 5:00 pm
Train Departs Seward:   6:00 pm – arrives in Anchorage at 10:15 pm
Adventure Class Rail Service and Ultimate Whale Watch Package:
(Adult) $317 plus tax/fess
(Child 2-11) $233 plus tax/fees
Upgrade your Rail travel to GoldStar Service: Details
(Adult) $493 plus tax/fees
(Child 2-11) $348 plus tax/fees
Coastal Clasic Train Discover for yourself why National Geographic Traveler ranked the Coastal Classic Train among their Top Ten Train Rides in North America. Departing Anchorage, the train winds along Turnagain Arm, where the steep mountains of the Chugach Range plunge directly to the sea. Following a brief stop in Girdwood, the train continues to the end of Turnagain Arm and veers away from the road system into the backcountry wilderness – and what many consider to be the most scenic stretch of the entire Railbelt. Upon a late morning arrival into Seward the train comes to a halt on the shores of Resurrection Bay, before making the return journey to Girdwood and Anchorage at 6 pm that evening.
Ultimate Whale Watch  A very short walk south from the Rail depot you will find the Seward Small boat harbor. Meet up with the Captain and climb aboard! Ample seating for six guests, heated cabin, and full marine head are standard on our boat tours. Our 'small boat' tours are a great way to see wildlife without the crowds.
Summer in Alaska is whale season and the waters around Seward are a great place to find whales as well as other wildlife. Humpbacks are a very regular sighting. We also see Killer Whales (Orca) on occasion. No two trips are ever the same as the captain will customize every trip based on wildlife activity and conditions at the time. We guarantee a whale sighting or your money back. No other company in Seward offers a whale guarantee.
6 passengers max on boat
Heated cabin
On-board marine restroom

Whale sighting guarantee
Boarding for the Coastal Classic Train is at the Alaska Railroad Depot located at 411 W. 1st ave. in Anchorage. Check in is one hour before departure in Anchorage, and 30 minutes before departure in Seward. Make sure all adults have a goverment issued I.D. available at check in.
From the Seward Rail Depot walk accross Port Avenue and you are at the Seward Small Boat Harbor. Continue on untill you see the Harbor Master's office. make a left behind the shops to find the Boardwalk. We meet up for the Whale Watch next to the "Coho Joe's" Coffee shop. This is near the top of "B" dock, and behind the "Pro-Fish-N-Sea/Crackerjack" charter office.  The Captain will walk up to greet you just prior to departure.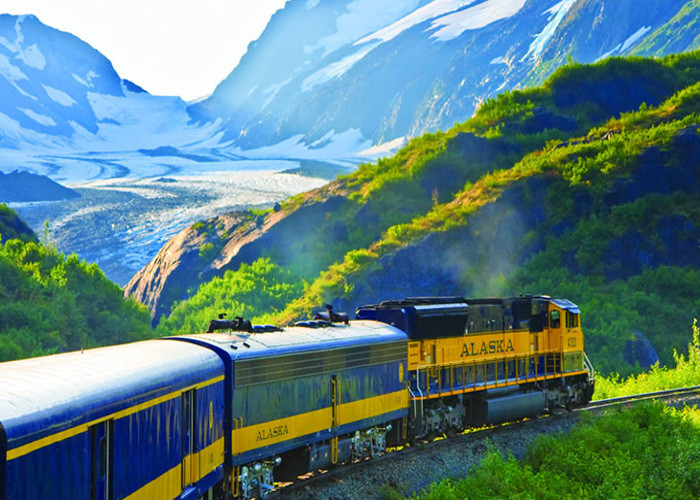 Our Exclusive Whale Sighting Guarantee
*Guarantee available from May 25 – August 31).
Of Course we can't control nature, but we are so sure that we will see a whale on our whale watching tours that we are willing to say that if a whale is not sighted on your adventure we will refund the price of the whale watch, or you can go again for free until sightings occur, limited to space available.  Applies to all of our motorized "whale watch" boat tours including whale watch/adventure combos from May 25 to August 31. On combination trips such as whale watch/adventure combos refund is limited to the whale watch portion of ticket price up to $149 per person, or 50% of group rate. Whale sightings are at the discretion of the captain. Federal law requires a distance of at least 100 yards be maintained when observing protected marine mammals. No attempt will be made by our captains to brake these laws. Whale sightings include but are not limited to spouts, flukes, fins, and backs of any type of whale including, but not limited to, the following: Humpbacks, Orcas, Fin Whales, Sei Whales, Grey Whales, Minke Whales, or Dall's Porpoise.
What to wear: Seward, Alaska is often referred to as a 'Temperate Rain Forest' and for good reason, although we do get several beautiful sunny and warm days each season. We suggest you dress in layers so that you can adjust for the weather of the moment. A waterproof outer layer is recommended. A light rain jacket and rain pants over a couple of inner layers is going to give you the flexibility for whatever you encounter
All our tours have a two passenger minimum (excludes private tours). Single travelers may be added to existing tours subject to availability. Please call to book single travelers.
 To book this package please call  907  422 0432
Want to spend more than one day in Seward? We can help you customize this package, and even help you book any other package The Alaska Railroad has to offer. Just give us a call to discuss options.